Early HP 41CV with embossed logo
09-21-2022, 09:21 PM
Early HP 41CV with embossed logo
There have been recently a few threads about early 41CVs. One about the embossed front logo that unfortunately turned
out of topic
, and one about the
silver border
where I learned a lot about 41's serial number decoding.
I've just received one of these early units:
serial number 1939A01026
golden ball contacts
tall keys
silver border
golden embossed logo
early 41C back label without the FCC text
ROM revision GFF

When I put batteries in it I got MEMORY LOST then going to PRGM mode it showed 00 REG 46. I did SIZE 100 and got in PRGM mode 00 REG 219 as expected for a CV board, which is also aligned with the ROM revision.
So this unit started it's life as a 41C as indicated by the serial number from 1979 and the golden balls. Then at some point it was upgraded with a 41CV board and an embossed 41CV front label. From the serial numbers of the few other units reported with an embossed logo this seems to have happened at the very early stage of the 41CV production.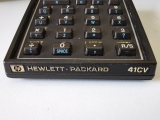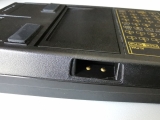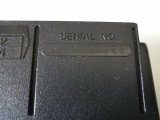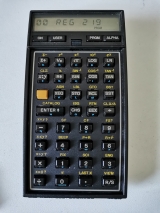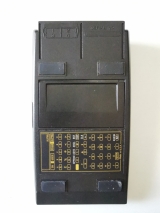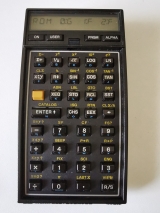 09-22-2022, 12:20 AM
rprosperi
Super Moderator

Posts: 5,996
Joined: Dec 2013
RE: Early HP 41CV with embossed logo
Another Frankencalc, but this time a very special one!
I've wondered if these embossed logos were applied by HP service, for 41C units sent in for service, where they changed the board and logo.
Also, I vaguely recall a program when the 41CV came out where you could send in your 41C to be upgraded, for some nominal fee, but I have not found any documents, brochures or other notifications about it. Perhaps units that went through this upgrade program received the embossed logo as a bonus??
There is also a downside to seeing this... another 41 model to track down... <sigh> a collectors work is never done...
Thanks Didier!
---
--Bob Prosperi
09-22-2022, 07:05 AM
(This post was last modified: 09-22-2022 07:07 AM by J-F Garnier.)
RE: Early HP 41CV with embossed logo
Great find !
(09-21-2022 09:21 PM)

Didier Lachieze Wrote: [... the thread] about the embossed front logo that unfortunately turned out of topic
Yes, I noticed that too.
So here are the pictures of my
special 41CV
with embossed logo here:
J-F
User(s) browsing this thread: 1 Guest(s)