Anything I should know before buying a 71B?
03-12-2021, 06:15 PM
RE: Anything I should know before buying a 71B?
.
Hi
,
(03-12-2021 03:37 PM)

Dave Britten Wrote: I know there are a couple of different ROM versions, but aside from the array redimensioning bug in 2CCCC, it sounds like there aren't many significant differences. Is that accurate?
I've been using the
HP-71B
version
1BBBB
very extensively since it was released 37 years ago, writing hundreds of programs large and small, simple and convoluted, and never ever have I stumbled upon any bug, not once. Thus, I'd recommend you to also consider
1BBBB
if you find one in better condition/price than a newer version. Avoid
1CCCC
at all costs.
Quote:The base 17.5 KB of user RAM sounds like it would be plenty for starters (that's like 8 times as much as a 41's main memory!), but

are there options for increasing it more than the paltry 4 KB RAM modules that I see?
Of course there are !
Here you are, one of my
HP-71B
fitted with
CMT 128 Kb
RAM: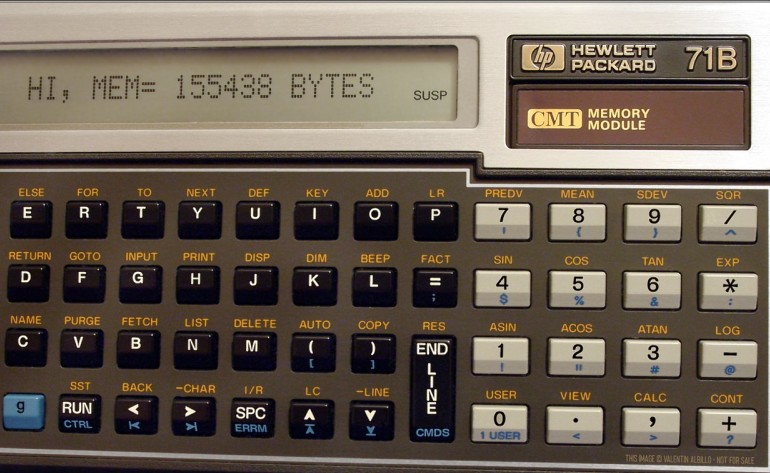 They're probably expensive but, at least for me, an absolute must. I also own a card-reader but I stored it away and have used the
CMB 128 Kb
module in its place ever since.
Last but not least, once you've got your
HP-71B
(or before) have a look at the many pictures and programs I've written for it, available as
JPG
and/or
PDF
at
my HP site
.
V.
---
  


All My Articles & other Materials

here: 

Valentin Albillo's HP Collection


 
User(s) browsing this thread: 1 Guest(s)