Re: Card Reader motor - doesn't spin smoothly
Message #7 Posted by geoff quickfall on 24 Feb 2010, 3:09 a.m.,
in response to message #6 by Vieira, Luiz C. (Brazil)
Kind of busy right now but not enough to abandon the forum!
The dampening couple (motor shaft to worm gear):
Now we know why it is called a 'dampening couple' by HP! The couple to the worm gear is composed of an aluminum tube with the same type of rubber that the pinch roller has. Thus it suffers the same degradation over time that the roller does (bacterial infection has been suggested.
Hello Luiz, was the card reader you refer to from a 65, 67 or topcat (see below with reference to the HP41C series)?
The pinch roller axle (eccentric cam}:
In the HP 67, topcats and 65 the pinch roller axle shaft is assymetric allowing the pinch roller to raise or lower relative to the card reader horizontal axis. Luiz is correct that this may be a source of the noise or slipping of the card in the reader. The height of the pinch roller affects the card reading speed; slipping of the card inside the reader; again in my examples. It also raises, or put another way, changes the way the card presses against the card reader head. This to affects the ability of the card reader to read the card.
In the HP 41; at least the 15 I have restored to date, the axle is not assymetric (edtited: this is not correct as the axle is eccentric, Feb 25, 2010).
The motor itself may have very worn or corroded brushes causing the jerkiness. Have you powered the motors by a 1.5 volt battery outside of the housing, or at least while not attached to the card reader worm gear. Is it jerky.
Here is a sample of a fix Michael was refering to for the worm gear couple taken from my presentation at HCC2009 and will be found in my book. It refers to an HP 41C assembly. Notice the shaft of the pinch roller axle is not assymetric. Also, the HP41C series of card readers and the 65 (I have not compared them to a 67 or topcats) does not have interchangeable motor shaft/worm gears. They are of a different length and will not fit when the motor is placed back in the card reader assembly:

HP-65 	drive roller axle: 	8.32mm
HP-41C 	drive roller axle:	8.23mm
HP-65	worm gear length:	14.43mm
HP-41C 	worm gear length:	14.36mm

Original assembly removed with NOISY dampening couple:
Couple components:

a. motor shaft
b. aluminum tube
c. part of the urethane rubber couple material
d. worm gear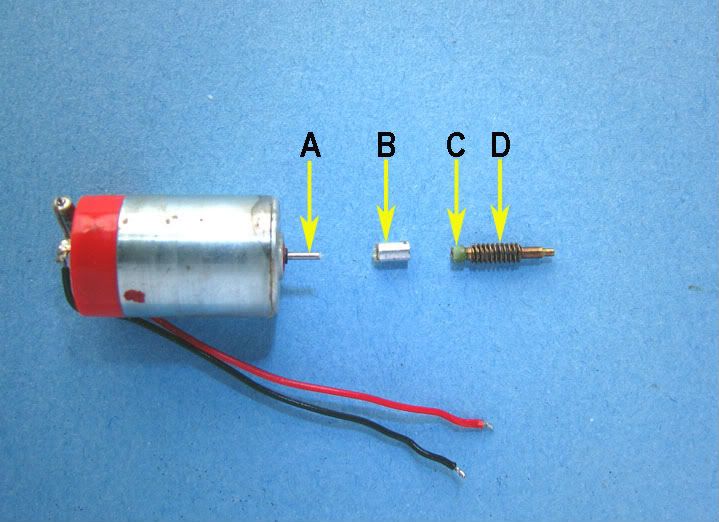 Using wire insulation, two diameters, one inserted inside the other to accommodate the larger worm gear attachment diameter and the narrow motor shaft attachment.
Completed and assembled:
Interesting photos of the pinch roller from an HP41C assembly showing the bacterial infection in full force (H1N1 for the HP 41C):
Edited: 25 Feb 2010, 11:49 a.m. after one or more responses were posted