09-22-2022, 05:18 PM
Lagaffe
Junior Member

Posts: 2
Joined: Sep 2022
Trying to fix a HP 50g
Hello everyone, I'm trying to fix my dead HP-50g
I bought this calculator, already dead, and I have no previous knowledge of what could have happen to it. However, I still have hopes to bring it to live.
Therefore, like I have mentioned, the calculator is dead, and nothing happens when I press the ON button.
After a quick voltage test to the mainboard, I found out that LDO 1 (voltage regulator - low voltage dropout) has the 6V from the batteries on its input and CE pin (chip enable pin), and an output of 3.3V ... which makes sense.
On the LDO 2, I have on its input and CE pin, the 3.3V coming from LDO 1, but around 200mV at the output, so "hello", more than likely, this value should be a lot higher !
The marking on the LDO 1 and LDO 2, seems to lead me to a dead end. For the LDO 1 I got no possible match, for the LDO 2, I got a "match" for the RP107N391D, but this cannot be. I cannot have a LDO with 3,3V on its input, and 3,9V at its output, not to mention that 3,9V is a odd value for a voltage on such a device.
I'm attaching 2 pictures, can anyone measure the voltage at those 2 places pointed by the red arrows ? ... please ?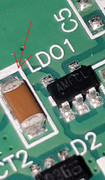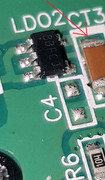 Sorry for the images bad quality, but I've used my mobile to capture those images, with a more less readable smd markings.
10-01-2022, 04:11 PM
Lagaffe
Junior Member

Posts: 2
Joined: Sep 2022
RE: Trying to fix a HP 50g
Sharing developments.

The marks on the LDO 1 and LDO 2 chips were not useful.

Searching online for AMFCL references on a SOT23-5 package, I found it to possible be a XC6501A46AMR-G chip, which would be a 4.6V LDO - Doesn't make sense!
For BBFCJ, the result would be a RP107N391D, that is, a 3.9V LDO - also, doesn't make sense!

Since in LDO 2, I have 3.3V, it leads me to believe that LDO 1 is a 1.8V LDO, since these are the voltages that the CPU needs.

I exchanged LDO 2 for: TLV73333PDBVR and LDO 1 for: TLV73318PDBVT

Success ! the calculator came back to life.

However, the work is not finished yet, as several keys do not work. Everything leads me to believe that the origin of the damage was due to liquid damage.

I've removed all the screws from the board, but it still doesn't show any signs of wanting to come out. Has anyone removed the HP 50g board and keyboard, if so, any tips?
User(s) browsing this thread: 1 Guest(s)