(12C Platinum) Successive Discounts
12-24-2018, 11:25 AM
(This post was last modified: 12-24-2018 11:32 AM by Thomas Klemm.)
RE: (12C Platinum) Successive Discounts
(12-24-2018 06:32 AM)

Gamo Wrote: … a

recursive

function is one that

calls itself again to repeat the code

.
That might also be a function
ping
calling a function
pong
and vice versa.
Or involve even more functions.
(…)
Quote:The old recruiting practice says, "Never hire a developer who computes the factorial using Recursion".
These times are fortunately over.
(…)
Quote:During the recursive call the values of the local fields of the method are placed on the method stack until the subtask performed by a recursive call is completed.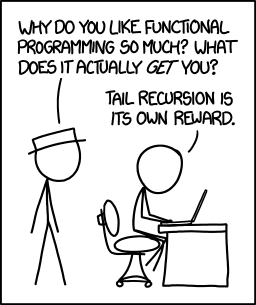 Cf.
tail call
and
continuation-passing style
.
(…)
Quote:(the java.util.Stack class is a good candidate for this job).
You don't want
future generations hate you
, do you?
Cheers
Thomas
User(s) browsing this thread: 1 Guest(s)