new Exact Arithmetic mode
02-04-2019, 08:08 PM
(This post was last modified: 02-04-2019 10:39 PM by compsystems.)
compsystems
Senior Member

Posts: 1,196
Joined: Dec 2013
RE: new Exact Arithmetic mode
The TI-EDUCATION group, when it launched the ti-nspire series and ported TI-basic of the ti89 series to the TI-Nspire, did not incorporate pixel commands, because according to them, the students would dedicate themselves to making games. according to several authors,programming games, you can develop algorithmic thinking and even mathematical thinking.
They also said that very few teachers request the complete ti-basic catalog of the ti68k, but after the numWorks calculator, it launched the first calculator with microPython, plus the handling of pixels, TI added the commands for managing pixels on TI-nspire series and an external device with u-Python for the TI84 series, the suggestions of the users did not weigh, but the content of the apps of its competitors.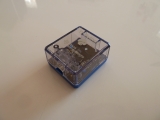 ---
LO SUFICIENTEMENTE BUENO ES ENEMIGO DE LA EXCELENCIA.
User(s) browsing this thread: 1 Guest(s)