---
TAGS HP50 - CMarangon - 10-22-2020 11:13 PM

Hello!

Sorry, I made a typo it is Flags no Tags:-)

But lets go on...

How many flags has HP50?

I have counted 84 flags.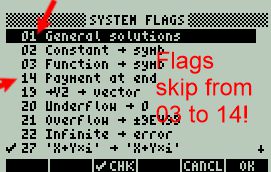 Is there hidden flags?

Flags number does not mean that there are same number of flags, till this number.


---
RE: TAGS HP50 - Joe Horn - 10-23-2020 05:05 AM

128 System flags, and 128 User flags. Details extracted from the HP 50g AUR:
http://holyjoe.net/hp/HP_50g_AUR_Appendix_C_-_Flags.pdf


---
RE: TAGS HP50 - CMarangon - 10-23-2020 04:16 PM

Hello Joe!

Thanks for reply.

I sent you a private message, using HP Museum private message page.
Please see it.

Kind regards,



(10-23-2020 05:05 AM)

Joe Horn Wrote: 128 System flags, and 128 User flags. Details extracted from the HP 50g AUR:
http://holyjoe.net/hp/HP_50g_AUR_Appendix_C_-_Flags.pdf
---