Hello all and Bernhard for reigniting the LED magic.
I took my HP 29E IR GPS to work this week. A flight from Vancouver, Canada to Beijing, China and return. I wanted to see the GPS functioning on the flight deck but had some reservations about the reception inside the flight deck.
The flight deck is surrounded by wiring, metal and other good EM producers and blockers, hence the need for external antennae. Also the windcreens are different then normal car or cabin windshields. They are two panes of treated glass with a middle layer of liquid vinyl. The liquid vinyl is heated by a transparent aluminum (Star Trek). For more on this:
Heated windshields.
Back to the flight deck, the heated windshields also block external EM. iPads have made their way onto the flight deck, company issue of course, containing manuals and etc but also a GPS which gives dynamic overlay of aircraft position on various charts. However, the iPad is situated on a g-force bracket suctioned cupped to the side window. This allows the reception of satellite data from one direction, the aircraft shielding any info from the other side. It is not uncommon to have one pilot receiving SAT data and the other pilot (other side) not.
So back to the HP 29E IR GPS. In the following photos you will see it is placed near the window ipad bracket on a clip board. All the way to Beijing it failed to receive any data or even a glimmer of sensing. Disappointed but not unhappy I figured the tiny antenna was just not up to the task. After all my iPad GPS was locked onto at least three satellites giving me positional overlay information.
So I was relegated to taking pictures of the HP 29 in Beijing in the ground outdoors.
Well, I tried again on the way home and Success! Locked on to 9 satellites and all info conincided with flight deck instrumentation. Even ran a distance remaining program (Bernhard routine modified) to take dynamically changing latitude and longitude, present position coordinates and compare them to destination fixed point coordinates. The program runs them through the routine and displays the distance remaining in nautical miles to destination which is updated as quickly as the routine runs. I will post avideo at YouTube.
Bernhard, a hearty thanks! For those that don't know what an HP 29E IR GPS is:
29 E refers to an enhanced HP 29. The calculator is capable of storing and recalling thirty 98 line programs as well as 20 constants and blocks of registers containing constants required for programs. It also allows merging of sequential or non sequential programs to be called by others allowing thirty 98 lined programs to be merged into one large routine; similar to the merge command on the HP 67. In fact I have three routines totalling over 200 lines each acting as one program seamlessly calling each other!
The IR means it infrared prints to the HP 8224a or b portable printer.
GPS, well that's obvious isn't it :-)

Anyhow, here are the pictures somewhere near Alaska at a pressure altitude of 33,000'
Indication that 3 or more satellite signals are being received and displaying ZULU (GMT) time:
Current latitude:
Current longitude:
Speed in knots: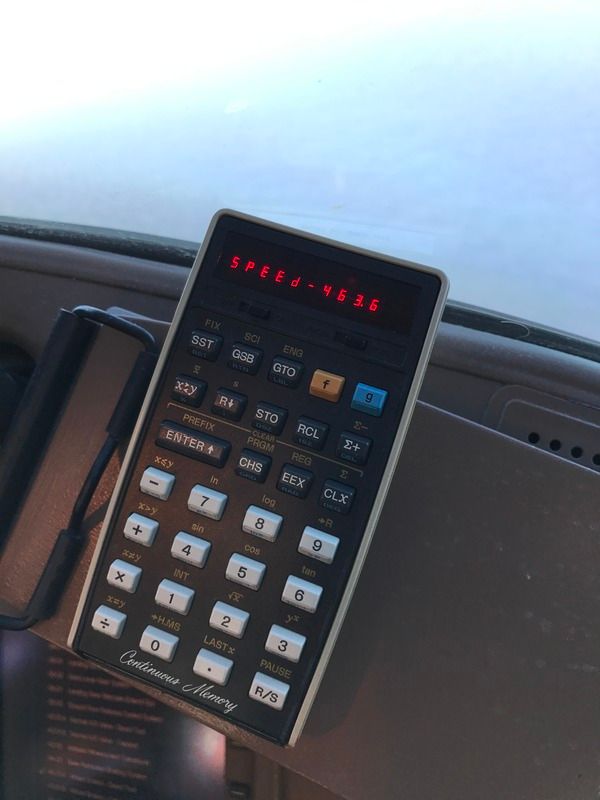 Speed in kph:
Heading, actually true track for an aircraft or boat which may head one way but track differently.
Altitude in meters which does. It correspond to the aircraft altitude as we fly at pressure altitudes with all aircraft using the same setting (standard 29.92" or 1013.2hPa)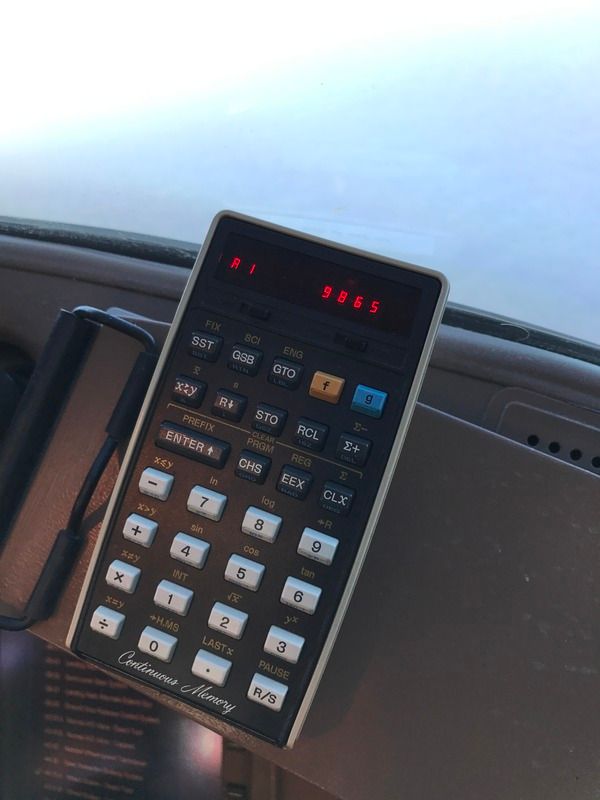 Accuracy (horizontal dilution of precision):
Number of satellites detected: