http://www.newser.com/story/272188/the-m...-died.html
Excerpt
"NEWSER) – Jerry Merryman, one of the inventors of the hand-held electronic calculator who's described as "the most brilliant man that I've ever met," has died. He was 86. Merryman died Feb. 27 at a Dallas hospital from complications of heart and kidney failure, said his stepdaughter, Kim Ikovic. She said he'd been hospitalized since late December after experiencing complications during surgery to install a pacemaker. He's one of the three men credited with inventing the hand-held calculator while working at Dallas-based Texas Instruments. The team was led by Jack Kilby, who made way for today's computers with the invention of the integrated circuit and won the Nobel Prize. The prototype built by the team, which also included James Van Tassel, is at the Smithsonian Institution."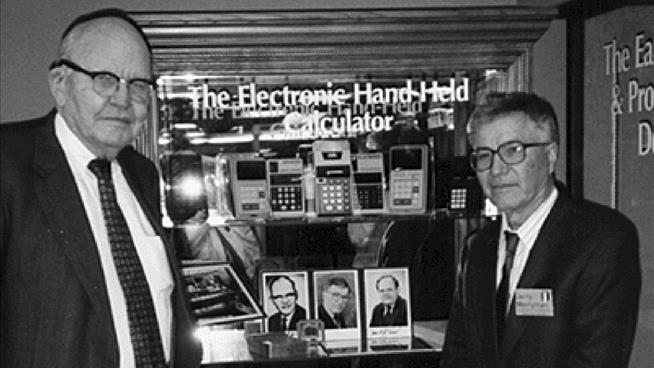 This 1997 photo shows Jack Kilby and Jerry Merryman, right, at the American Computer Museum in Bozeman, Mont. (Phyllis Merryman via AP)
Merryman told NPR's All Things Considered in 2013, "It was late 1965 and Jack Kilby, my boss, presented the idea of a calculator. He called some people in his office. He says, 'We'd like to have some sort of computing device, perhaps to replace the slide rule. It would be nice if it were as small as this little book that I have in my hand.'" Merryman added, "Silly me, I thought we were just making a calculator, but we were creating an electronic revolution."
RIP