Re: Restoring Classics: do and do-not:
Message #4 Posted by geoff quickfall on 10 Dec 2009, 5:18 p.m.,
in response to message #2 by Michael Meyer
Actually, and unfortunately that you have not seen it, it has been mentioned.
first the nevers:

-  Never, never use a harsh cleaner, (409, Fantastic, etc).
-  Never rub the or brush the silk screening.
-  Never use an abrasive.

secondly the how too:

-  use an extremely dilute soap solution.  A drop or two of dish
   detergent in a gallon of luke warm water.
-  if a brush is required let soak and use an artists brush or 
   makeup brush (wifes with permission)
-  dab the area to be cleaned, never brush it
-  rinse
-  when drying, dab the area, do not rub or
-  let airdry
-  mask off the keyboard and apply a matte laqueur finish.

the why it happens:

-  solvents in the air (lab environment, alchohol based etc) and
   UV light slowly destroy the in house fixing agent used on the
   silkscreen.
-  although the silkscreening looks good, it is extremely
   compromised.
-  Using the matte spray will consolidate the silkscreen material.
-  the matte spray is optional

Many restorers here have used armoral (vinyl and plastic reconditioner, but I do not as I don't know the long term affect it will have. Also it does nothing to stabilize the silk screen from futher decomposition under UV. Of course if you have cleaned it and are not using it except for display then the matte spray is not required.
It is interesting to note that even my HP-55 was faded looking after treating its keyboard with kid gloves. The following have all been restored and stabilized with matte laqueur.
The Woodstocks are notorious for faded and washed out silkscreening!
Cheers, Geoff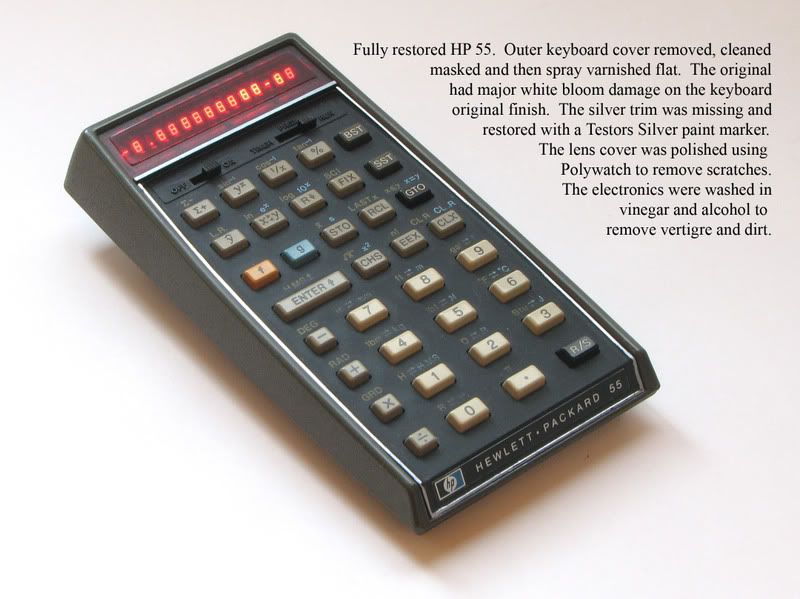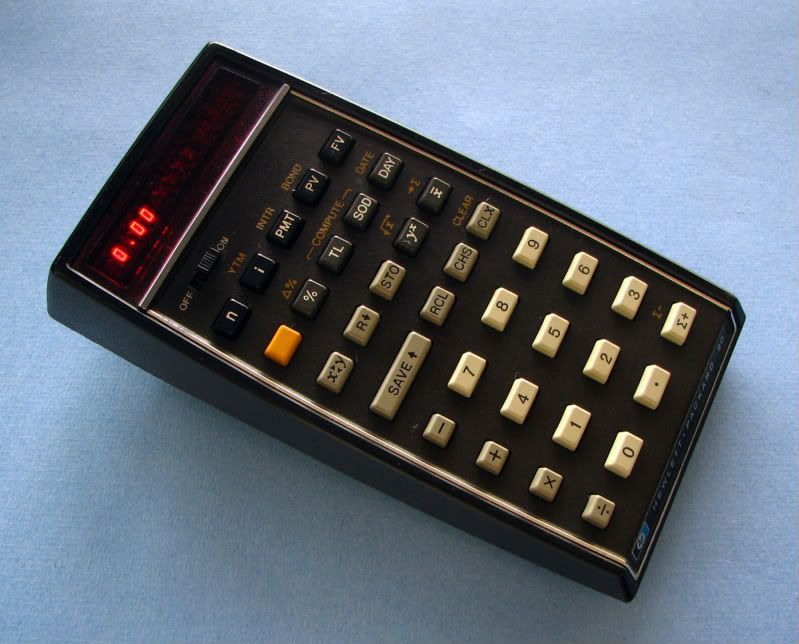 Here is an overlay for the HP-41CX done on clear sticky backed lable film and run through the inkjet. Also works with Laser printer: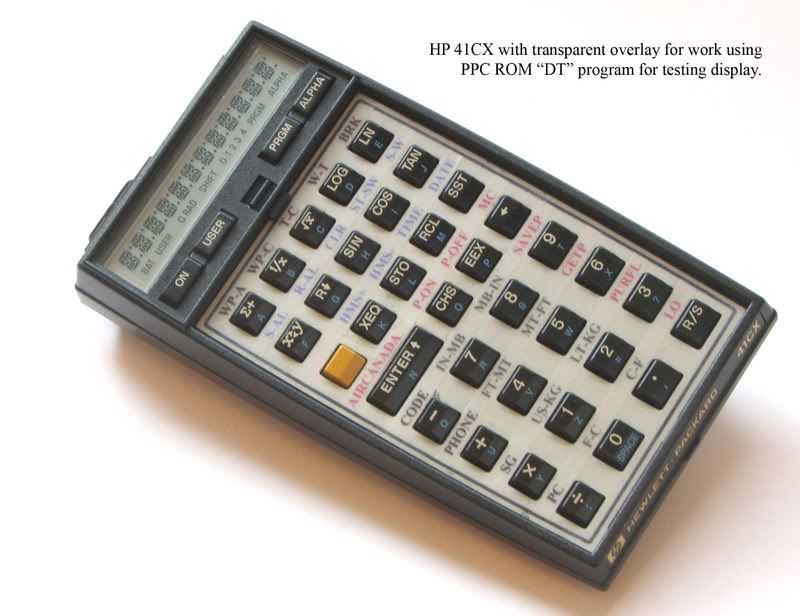 GRATUITOUS DOG PHOTO:
Edited: 10 Dec 2009, 5:34 p.m.