HP-67 / battery door - latch
05-13-2017, 04:13 AM
(This post was last modified: 05-13-2017 09:06 AM by Dr. Mabuse.)
Dr. Mabuse
Junior Member

Posts: 17
Joined: Apr 2017
HP-67 / battery door - latch
Gentlemen:
I'm looking for one / a pair of these original battery door latches / door bar for my HP-67. These latches are located at the top of the battery door (top left & top right) Unfortunally one of these small green latches are gone since years. Many thanks for your help in advance ... !!!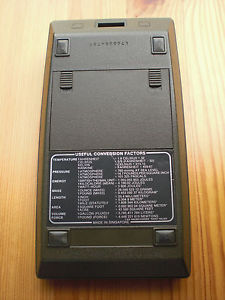 Kind regards from Germany,
Thomas alias Dr. Mabuse
05-25-2017, 05:05 PM
(This post was last modified: 05-25-2017 05:06 PM by PANAMATIK.)
PANAMATIK
Senior Member

Posts: 862
Joined: Oct 2014
RE: HP-67 / battery door - latch
Nate Martin modeled the latches for the classic battery door. But they don't fit for the HP-67. Perhaps somebody (or I) could create a 3D model for the HP-67 latches soon.

Bernhard
---
That's one small step for a man - one giant leap for mankind.
05-27-2017, 05:11 AM
RE: HP-67 / battery door - latch
Ok, I will try to get to the door and latches for a HP67 soon. I need to finish the battery door for a 75 first.
User(s) browsing this thread: 1 Guest(s)