N.O.S. for $50 USd.
Message #34 Posted by Geoff Quickfall on 19 Aug 2009, 12:19 a.m.,
in response to message #1 by hecube
Firstly, let me say, GOOD JOB! Not a bad price for a classic HP-67. I know there have been better deals, but that is rare, especially at EBay.
My find:
Picked up an unused HP-67 in its original box for $50.
In the box was the following:

shrink wrapped prgraming pad
shrink wrapped manual
shrink wrapped HP-67 games box
shrink wrapped HP-67 statistics package and box
shrink wrapped external classic battery charger
two unused adapters (wall warts)
two PPC journal copies
the quick reference card
the original magnetic card holder
two unused (but leaked) battery packs in a zip lock from HP

I explained to the owner, a 97 year old archeologist, that the package should be valued around $300 plus dollars. He stated that he wanted it working, but that the new rebuilt battery pack would not power the calculator and that for $20 he bought a Casio that would do the statistics he needed for a publication. He did not want it fixed, but wanted a good home for it.
I explained that I would try to fix it but that the card reader would need a new dampening couple and pinch roller. Plus the trouble shoot to find the power supply problem. He did not want to be bothered! So I ended up giving him another $50 for a total of $100. He did not think that was necessary and gave it back to me.
I got home and found out it was the battery pack rebuild that was unservicable. I powered up the 67, tried a card, and it ran perfectly. I removed the battery pack and have kept the unit unsuded since. I did tell him that I got it working and that I would repair it for him (the card reader) although it did work at the moment.
His response was thanks, but it's yours, enjoy.
Those of you at HCC2008 would have seen this one on display.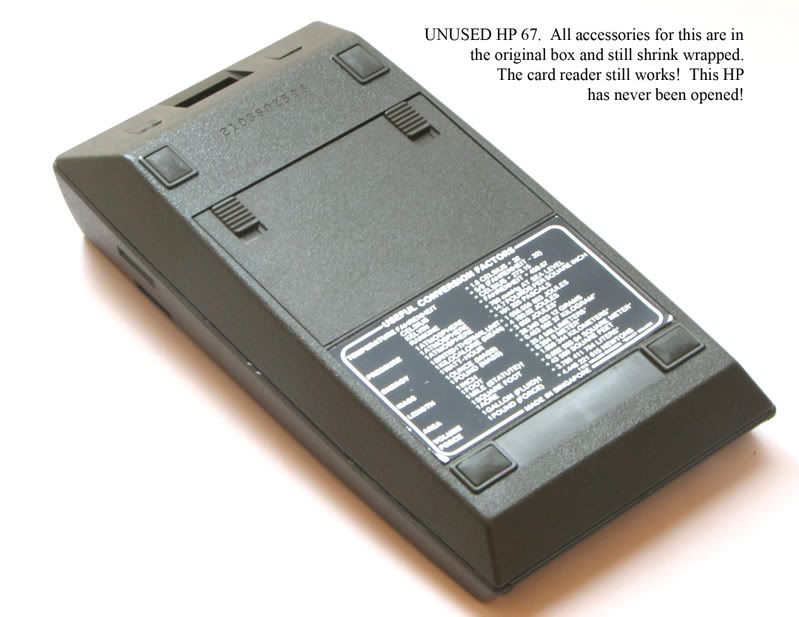 Cheers, Geoff
Edited: 19 Aug 2009, 11:46 a.m. after one or more responses were posted